Summertime won't be complete without going to the beach. Last weekend, me and my college friends, together with our families spent 3-days/2-nights at Camaya Sands Hotel in Mariveles, Bataan. The site is far and I'm not exaggerating it. Camaya Coast is located in Brgy. Biaan, Sitio Wain, Mariveles, Bataan. It's a very long drive from Manila. From NLEX, take SCTEX exit and ply towards Subic, Olongapo, but you can also consider going through San Fernando. Take Dinalupihan exit and turn right along Roman Superhighway towards Bataan passing five towns including Hermosa, Abucay, Balanga, Pilar and Limay. You will reach the town proper after passing the zigzag road. From Jollibee, follow the road signs leading to Camaya Coast site, which is approximately 13 km to the site.
Our group accommodated a loft style suite with 2 twin deluxe and 2 single sized beds, plus 1 extra pull out bed. Each room has air con, refrigerator, LED television, and Wi-Fi connection. Guests have access to the beach, gym and infinity pools, and for those who want outdoor activities, Camaya Sands Hotel offers free use of kayaks, bikes, billiards, snorkel gears and others.
Our loft style suite has comfortable beds, but the curtains were filthy. There's no bidet holder in the toilet upstairs, while the shower seat seems located in a wrong place downstairs. The stair balustrade is not sturdy because it wobbles. We tested its durability when a friend fell down. Our televisions have clear reception, while the Wi-Fi and network signals are very poor when inside the room – worst case scenario when the hotel is fully-booked. You can't obtain an IP address anymore, even after a Wi-Fi reset.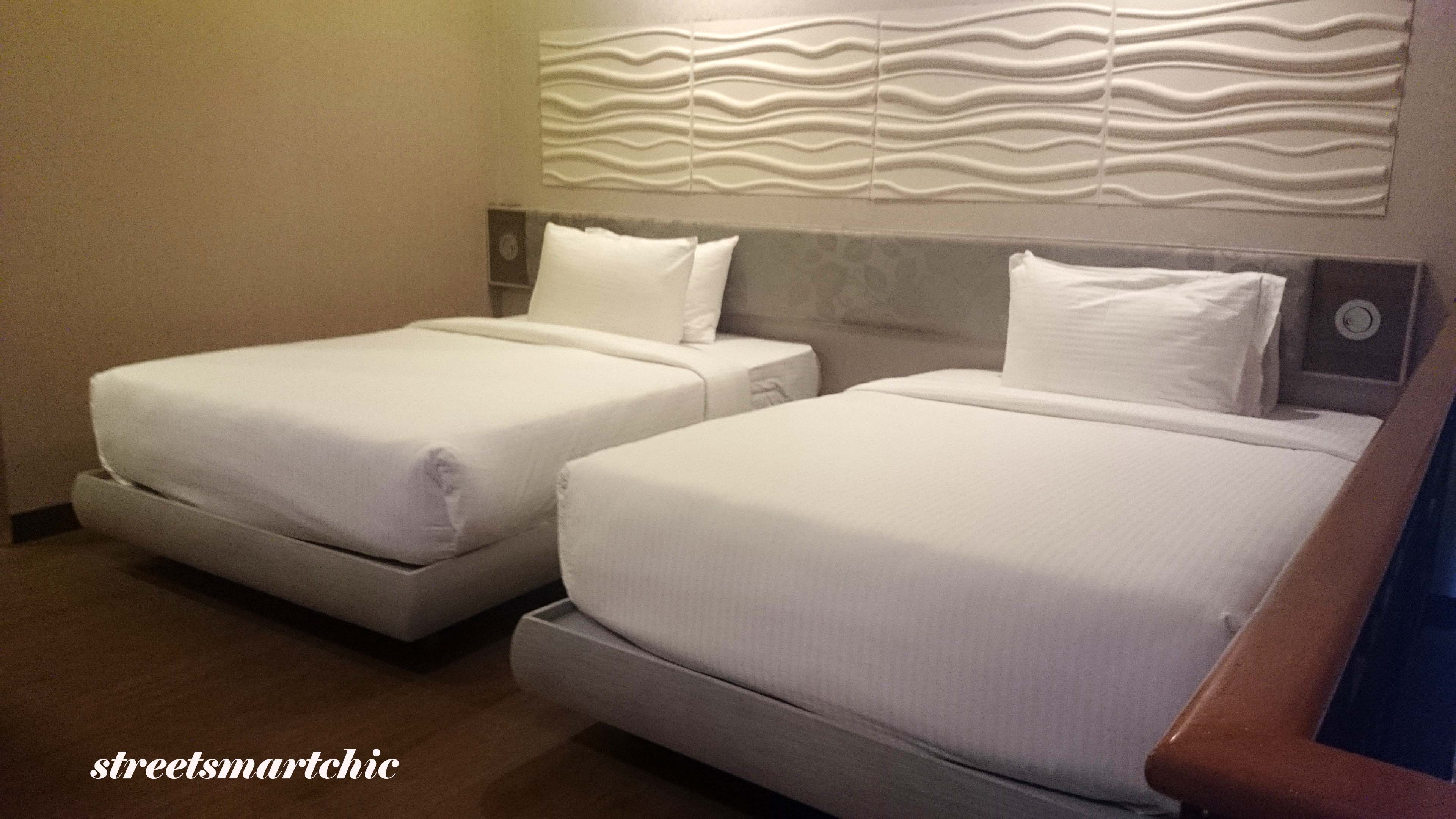 We truly loved the huge inflatable slides and floaters in the sea. The beach has fine sands, while the water is clean and shallow, safe for adults and kids who don't know how to swim. My friends spotted a jellyfish near the slide. The infinity pools are beautiful, with the breathtaking view of the hills and the sea. We can tell that the site is well-maintained.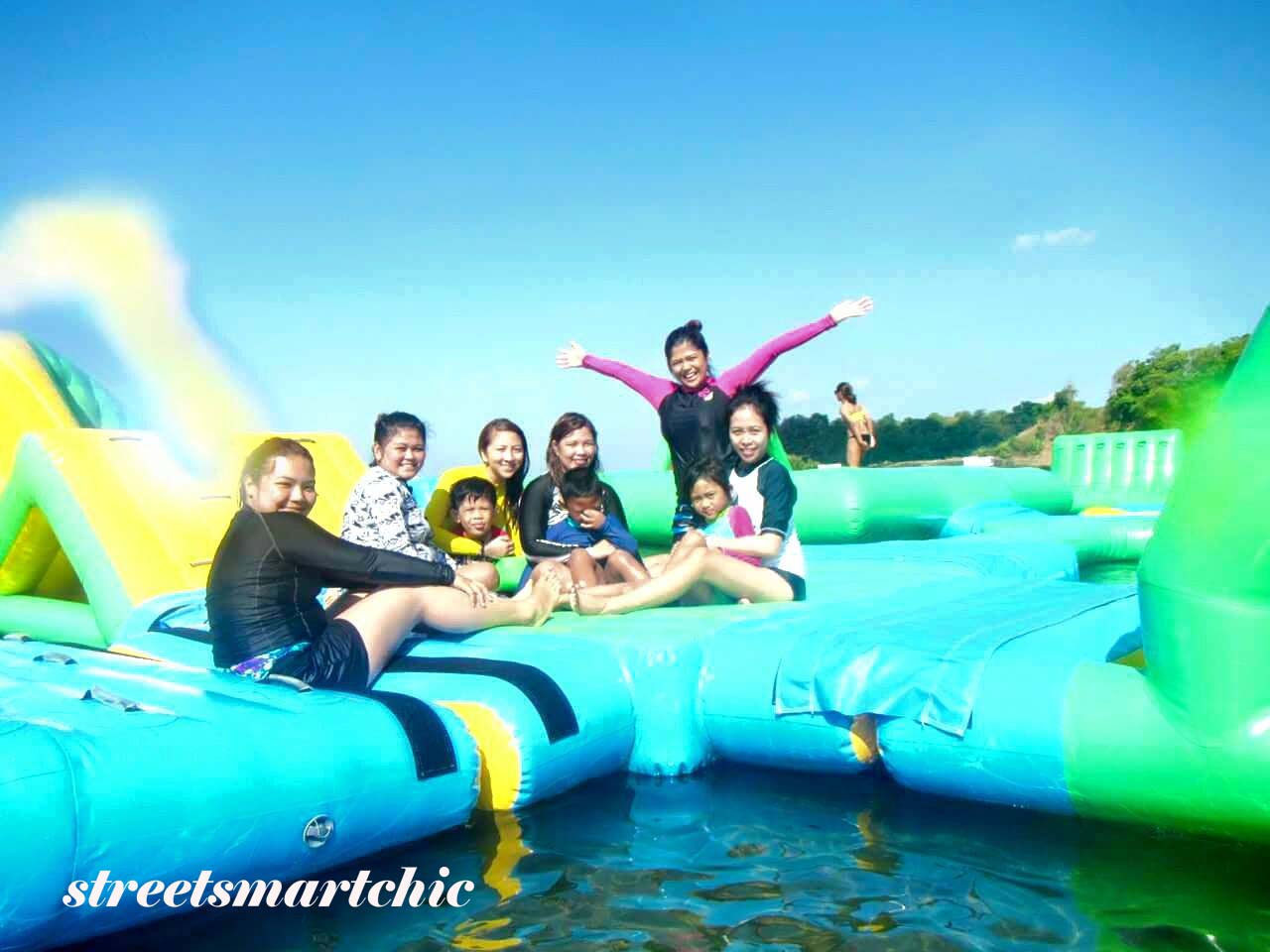 Our group complied to not bring food, thus, we solely relied to its restaurant. The menu during our first day was good. In fact, we ordered a lot for a late lunch, resulting for a light dinner.
The annoyance started the following day during our buffet breakfast. Since we are going to pay for our breakfast (as it was not included in our room inclusions), we were expecting a wide selection of food, but we only had corned beef, scrambled egg, pork adobo and garlic rice with orange juice. It's a beach hotel so we were also looking for fruits. Even our water and orange juices served late. We were unhappy, seriously unhappy, thinking of our 3 kids who are picky eaters.
To avoid stress, we considered food from Figaro and Taters for lunch, but their offerings were only suitable for snacks, so, we ended up eating in the restaurant again. The service staff failed to serve some of our orders. There were 3 staff assisting us, but none of them took the responsibility. When they noticed that we're annoyed, they even talked behind our back instead of improving their lousy service. Nothing's changed during the dinner.
We believe that the quality of service can still be improved anyways. Other hotel staff were very accommodating, even the lifeguards.