My battle against dark and very dry lips is about to reach its anniversary. This suffering started a year ago after I used EOS lip balm.
I learned the product from my sister-in-law because she sold some EOS lip balms on her online store before. I found it too cute to ignore and it smells so delicious. When I got the chance to visit Hong Kong last July 2014, I took advantage of shopping several cosmetic products, then I saw discounted EOS lip balms at Sasa store somewhere in Kowloon. I bought 2 EOS lip balms, red and light blue. They're cute and on sale, so I bought them.
I kept the red one and gave the light blue lip balm as "pasalubong". I used it religiously for protection, but to my dismay, my lips got very dry. My lips chapped, peeled and darkened, so I couldn't enjoy wearing lipstick anymore.
Now I'm trying to bring back the smoothness of my lips by using natural products. I learned from a customer (@trialanderrorbeauty) that she had an Angular cheilitis condition (inflammation of both corners of the mouth), after applying raw honey on her lips for several days it vanished.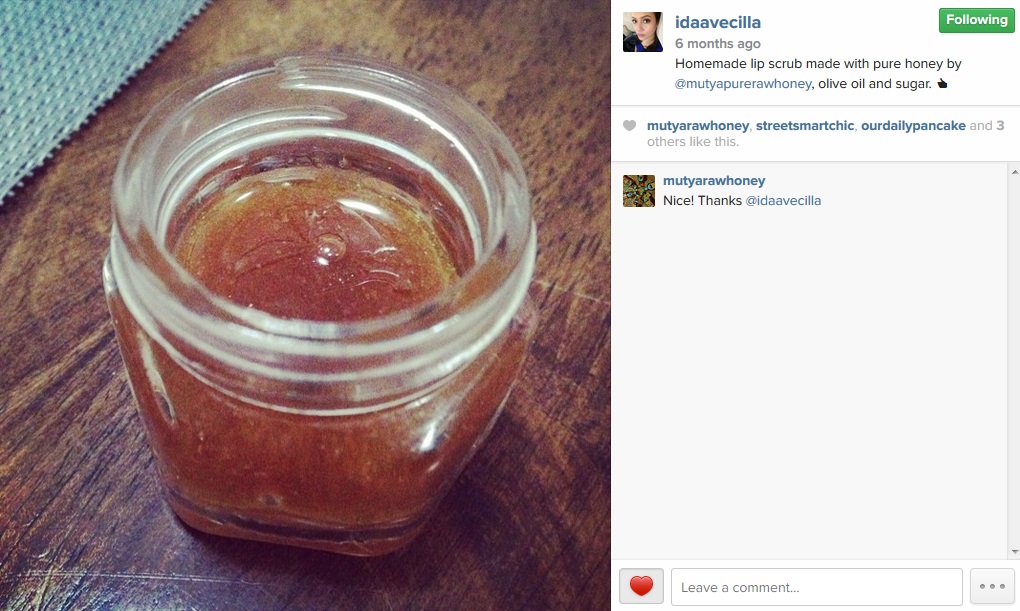 A friend of mine shared on Instagram her homemade honey, olive oil and sugar lip scrub. Now I'm using this mixture in curing my tortured lips. So far, it lessen the dryness and peeling. I know, in time, it will get back to its normal condition. I did not finish the red EOS lip balm. I'll throw it away soon.
Disclaimer: This is based on my experience, I'm not paid to do this review. What's not works for me may works for you. Thanks!